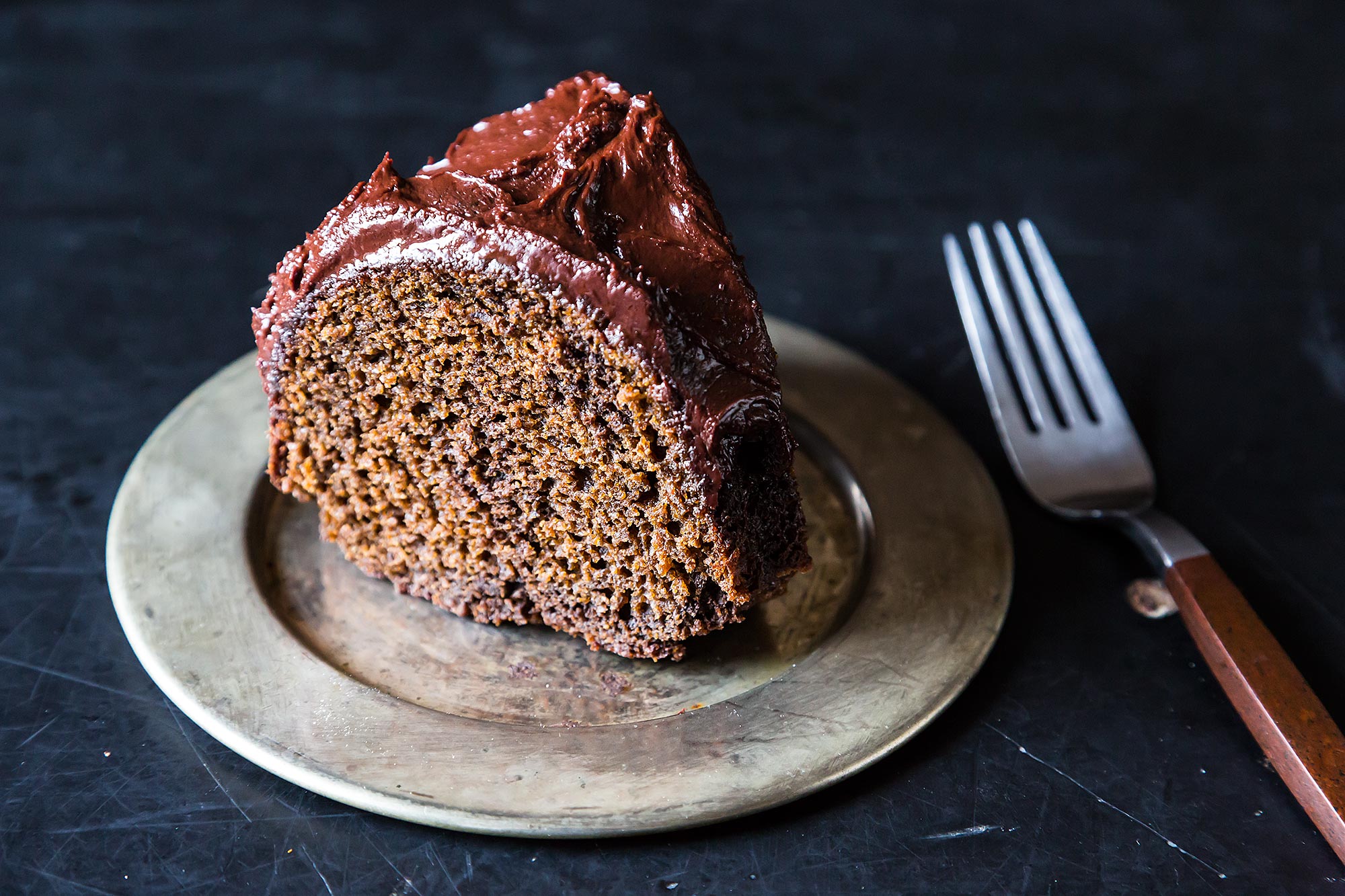 Drop whatever you are doing and make this cake now. Because it is the most amazing cake in the world and I think the only cake I'll ever make ever again, and I might make it every day for the rest of my life.
Personally, I adore gingerbread, in all it's varieties. My favorite type of gingerbread is the one sitting in front of me. (What. You don't think gingerbread has varieties? Clearly, you've never had good gingerbread.)
I usually go with the Laurie Colwin gingerbread recipe. (She has a whole chapter dedicated to gingerbread in
More Home Cooking
, and even gives instructions on where to order a
case
of the best molasses for your cakes. I ought to memorize the chapter because it is brilliant and matches my thoughts about gingerbread exactly.) Hers is a dense, dark loaf, spicy, not too sweet, quick and un-fussy.
But yesterday was R's birthday, and we were celebrating with fish and chips, and needed a suitable cake. This was just the ticket. It uses a more ginger than I've ever seen in a recipe, plus standbys cinnamon and cloves and actually a rather shocking amount of nutmeg. But there a few additions: cardamon and dry mustard powder. The original recipe uses sorghum, which I am going to try for sure, but I used Lyle's Black Treacle, since we were on the British kick. (Blackstrap molasses would do as well.) I used a porter for the beer.
And instead of making a chocolate marble with the batter (I was running out of time), I cut up the stone ground chocolate finely, and folded it into the batter. They melted, of course, giving the batter an extra richness. I would love to try this sometime with larger chunks of chocolate and maybe some crystalized ginger.
GINGERBREAD BEER BUNDT CAKE
With Chocolate Ganache Glaze
adapted from Food52 (
Recipe
;
Slideshow
)
2/3 cups canola oil (or other neutral oil)
2 cups light brown sugar
1/2 cup Lyle's Black Treacle, Sorghum, or blackstrap molasses
3 large eggs
1/2 teaspoon salt
2 1/4 cups all purpose flour
2 tablespoons cocoa powder, natural preferred
4 1/2 teaspoons ground ginger
1 tablespoon cinnamon
1 1/2 teaspoon dry mustard (such as coleman's)
1 1/2 teaspoon nutmeg, freshly grated
3/4 teaspoons ground cloves
1/2 teaspoon ground cardamom
2 1/4 teaspoons baking powder
1/2 teaspoon baking soda
3/4 cups dark beer (Smuttynose Robust Porter)
1/2 cup yogurt
2 oz unsweetened chocolate, shaved
CHOCOLATE GANACHE GLAZE
6 ounces bittersweet chocolate
6 tablespoons heavy whipping cream
1) Grease and flour a large bundt pan-10 to 12 cup capacity. Preheat the oven to 350.
2) In a large mixing bowl, whisk together the
oil, brown sugar, molasses, eggs and salt
.
3) Place a large mesh strainer over another bowl and place the
flour, cocoa, spices, baking powder and baking soda
in it. Sift about half of the dry ingredients over the wet ingredients fold the batter to incorporate.
4) Add the
yogurt
and fold until smooth. Sift the remaining dry ingredients over the batter and dump any that have collected in the bowl into the batter as well. Fold a few times, add the
beer and chocolate
chunks, and fold until completely mixed. Pour into the prepared bundt pan.
5) Bake until a pick inserted comes out clean, about 1 hour to 1 hour 10 minutes. Cool in the pan for 15-20 minutes and then turn it out onto a rack to cool completely.
6) To make the frosting/glaze: Melt the
bittersweet chocolate
by placing it in a pyrex bowl set over a pot of simmering water. Stirring constantly, so it doesn't scorch, allow the chocolate to melt almost completely. With high quality chocolate this should not take long at all. Add the
cream
, and whisk to incorporate, till smooth, and glossy.
7) Place the cooled cake on a serving platter. Using a spoon, drizzle the glaze all over the top of the cake. Allow the glaze to set in the fridge for 15-20 minutes but serve it at room temperature for the best flavor. Serve with whipped cream.