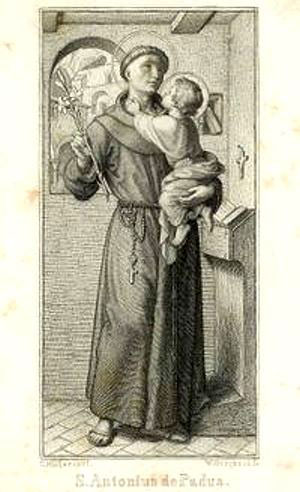 Today is the feast of St. Anthony. Besides being the patron of lost things (and therefore a dear friend to almost every Catholic I know), he is patron of
barren women
, for expectant mothers, for amputees, swineherds, boatmen, travelers, and, in America, finding parking spaces,
etc. etc.
I am inclined to think that he became the patron of these things simply because he is a generous and loving saint. You can really turn to him for anything, and he seemingly never gets tired of our moaning or pleading. (Seriously. I always forget about devotions to St. Anthony--instead I call on him only when I am at the end of my rope because I have looked in my purse fifteen times for my keys and they are still not there. Inevitably, when I say: Oh! St. Anthony! Help me! my hand lands on those elusive keys.)
He therefore has aroused the love of generations of people, and they will turn to him for anything. You'd be hard pressed to find a church in Italy or in most of America, really, that doesn't have a statue of St. Anthony.
For all this, it strikes me as especially fitting that
today
begins a
Facebook drive to encourage fasting and praying for an end to abortion
. January 2013 marks the 40th anniversary of Roe vs. Wade - 40 years of legalized murder - 40 years of oppression of women, disguised under the name of choice and liberty.
The idea of this group is simple: just say a prayer, every day, with the express intention of ending abortion. With the election, the health-care debates, the recent press on
sex-selective abortions
, etc. etc., it is easy to get caught up in the stuff of battle--the politics, the debates amongst ourselves about what is the best path to end abortion, the attacks from the culture and media. But one thing we can all do and all agree on is prayer!
So, just like we turn to St. Anthony when we can't find our keys--angry and frustrated and desperate, and unsure where to turn next--let's never forget to
pray
for an end to abortion in our country and world.
O Holy St. Anthony, gentlest of Saints, your love for God and Charity for His creatures, made you worthy, when on earth, to possess miraculous powers. Encouraged by this thought, I implore you to obtain for me [your request here]. O gentle and loving St. Anthony, whose heart was ever full of human sympathy, whisper my petition into the ears of the sweet Infant Jesus, who loved to be folded in your arms; and the gratitude of my heart will ever be yours. Amen.
Year of Prayer and Fasting is found on Facebook:
group
/
event
Image Source: an old holy card of St. Anthony from Texas