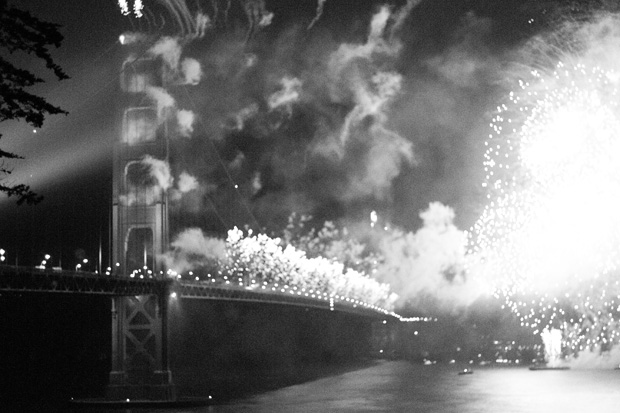 Happy 75th Birthday, my dear old friend, the Golden Gate Bridge!
The actual birthday was May 27, 2012, but somehow I forgot to mark the occasion online. Which is ridiculous, because the Golden Gate Bridge is, far and away, my favorite piece of civic architecture in the US - probably the world. I mean, it's tough to beat the Pantheon or the Great Pyramids. But the Golden Gate Bridge is
mine
.
I've driven across it a million times, and it
never fails
to astound me. I've never seen something that stands in such perfect harmony with the land as this bridge. Part of that is the color "International Orange" which turns carefully structured metal into something organic and almost natural. I don't know why I am bothering to try to describe it. Herb Caen says everything I've ever wanted to say about it in the video below.
For all that, you know, I've never walked across the bridge. When I was first living here in the East, I promised myself that I'd wait to walk across the bridge till I actually
move
home. But such sentimentality is giving way to my real desire to commemorate this birthday and celebrate something I really really love. I think I'll be walking across it this summer when I go home for a visit.
You can catch up on all the celebrations at the Bridge's
official website
, and catch lots of great photos and articles on their
Facebook page
, too. Plus there's full coverage in the
San Francisco Chronicle
. But here area few links that caught my eye:
+ My
favorite book of photos of San Francisco
, including some stunning ones of the Bridge.
+ The
story of Al Zampa
, who worked on all the major San Francisco Bay Bridges, and, in honor of that, got the bridge over the Carquinez Straights in Vallejo named for him.
+ The art installation celebrating the birthday has a gift shop (a fake gift shop, alas)
based entirely on "International Orange" the color of the paint of the bridge
. I really hope
Heath Ceramics
will make those pieces available for actual sale.
+
The Bridge and Camera Obscura.
+ A
WSJ
opinion piece about
the Bridge and creativity
(Photo: Heidi Swanson - she wandered across the city to the celebration, and posted the pictures along with an awesome nettle pasta recipe that has nothing to do with the Bridge but is clearly well worth mentioning and trying. Surprisingly, I have very few digital photos of the Bridge. I'll rectify this this summer, too.)