The Peacock Room by James McNeill Whistler
The Peacock Room
, which is perhaps my favorite room in all of Washington, is housed in the Freer Museum of Art. I always tell visitors to go here--aside from the stunning collection of Asian art (far and near, ancient and new), Freer collected some of the greatest works by American Impressionists. Furthermore, the building is lovely, cool and quiet--a peaceful respite from the crowds on the Mall. I go visit every couple of months, when I need my sanity restored, and I see now that a new visit is in order:
Since 1919, The Peacock Room has resided in the Freer Gallery of Art in a dimly lit room to protect its details. Starting this Thursday, however, the museum will throw open the shutters from 12 to 5:30 p.m. every third Thursday of the month to provide visitors with a better view of "tonal subtleties and decorative variations" best highlighted in natural light. Don't worry, the museum covered the windows with ultraviolet- and visible-light-filtering film to prevent fading. Stop by before 2 p.m. and talk to a docent or take an in-depth tour of the room at 2 p.m. and learn more about the artist.
You can bet I'll be there. (
DCist
)
Mark Twain's Advice to Little Girls
Mark Twain wrote a children's book in 1865 Much like Hilaire Belloc's marvelous
Cautionary Tales for Children
, this book takes the morality tale genre of the time and turns it on its head. Artist and illustrator Vladimir Radunsky has recently illustrated this hilarious work. See a
slide show here
. (NYRB)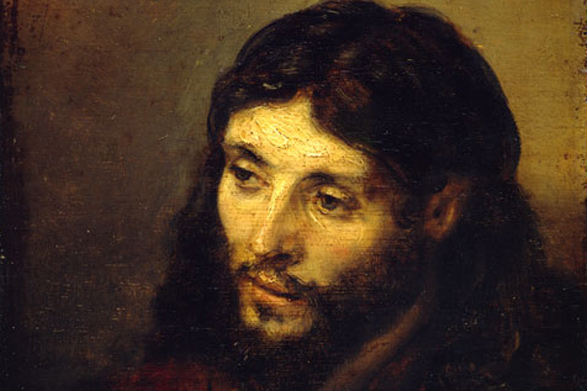 In the middle of his long career, we learn, Rembrandt began to portray Jesus with features subtly resembling those of contemporary Amsterdam Jews, a move starkly at odds with artistic tradition, yet in no way contrary to the text of the Bible. ...A similar sense of anticipatory quiet pervades "The Supper at Emmaus" (1648), in which the risen Christ pauses before revealing his identity to two disciples over a meal at a humble inn. This was the first major work in which Rembrandt portrayed Christ with olive skin, dark hair and facial features like those of Jewish men he knew from Amsterdam, and it is a true landmark in the artist's career. As Seymour Slive, the renowned Harvard scholar of Dutch art, has written, "To Rembrandt the Jews were the people of the Bible, and with his deepening realism he wanted to become more authentic in his biblical representations." So seriously did Rembrandt take the question of authenticity that "The Supper at Emmaus" depicts Christ about to break a loaf of traditional Jewish challah bread, clearly identifiable by its braided twists.
Also in the WSJ:
Stealing Rembrandts